---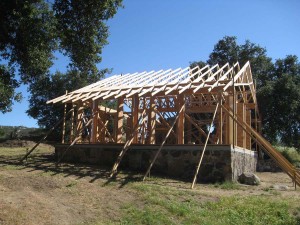 We are General Contractors dedicated to helping people build efficient, beautiful, healthy buildings. We specialize in green & natural building including straw bale, energy efficiency, natural finishes, non-toxic paints, clay & lime plaster, sustainable materials, and design & consulting for new & existing homes in and around San Diego County, CA. We offer a range of services:
Construction: We are licensed general contractors who can build from foundation to roof and serve all of San Diego County.  We can build your home for you but we specialize in building your home with you.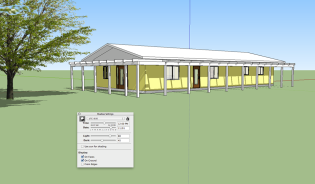 Design+Build: straw bale buildings need to be designed from the start to fit the particular needs of the bales and plaster. We are part of a team of builders, designers, and engineers that know how to get the design right from the start, meet the most current straw bale building standards, and end up with a straw bale house rather than a house with straw bales in it.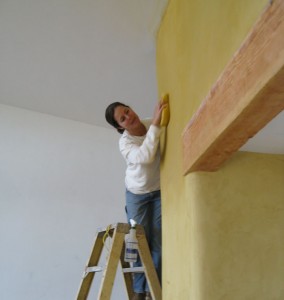 Plastering: We are passionate about helping you integrate clay and lime plasters into your new or existing home.  With our background in visual art, we are qualified to help you select the best colors and textures for your space and can provide plaster samples for your approval.  Every step of the process, from preparation through clean-up, will be done with care and respect for your vision and your home
The Details: Straw bale building is still a relatively new building system and many architects and designers have limited knowledge about the best practices. The two biggest areas of potential confusion are window framing and lath/plaster systems. We have developed a full range of details that work and will allow you to build well with straw bales.
Managing Subcontractors: Although there are a growing number of subcontractors learning about straw bale, finding experienced subs is still difficult in Southern California. There are a surprising number of points in a straw bale building project when inexperience can lead to big headaches down the line. From the foundation through the framing, plumbing, electrical, cabinetry, and even the tile, there is straw-bale-specific information that the subs need to know.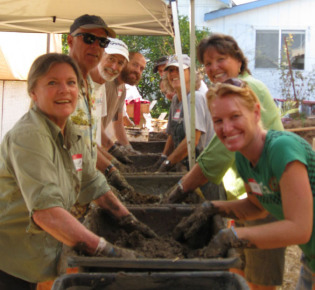 Straw Bale & Plaster Workparties: One attractive aspect of straw bale building is the potential for collaboration and community involvement. You can chose to have a "workparty" where family, friends, and neighbors volunteer to work together to stack bales or apply natural plasters. We have an email list of over 400 people who are interested in these events.  Volunteer labor can be a huge help or a huge headache, depending on how effectively the labor is trained and guided. We can provide the leadership, tools, training, and supervision you'll need to get the most out of your valuable volunteers.
Presentations on straw bale &/or natural plaster: we are available to present talks, lectures, and demonstrations to your school, church, or other group.  Content can be tailored to your groups' interest.  Contact us for more information.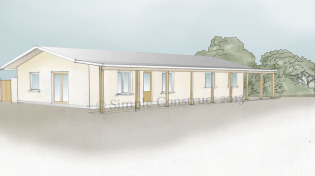 Renderings and Design Choices: Even with a good set of plans, there may be areas of the design that need clarification or refinement. We can help you "see" these details and possible choices through sketches, renderings, or photographic mock-ups.
Please feel free to contact us to discuss how we can help you with your project: info@simpleconstruct.net