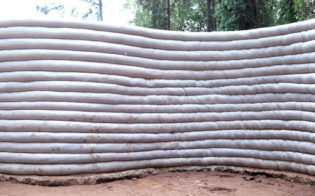 Stay tuned for more info about our Superadobe and Earthbag Wall Building Workshop on September 28-30, 2018. The focus of the workshop will be building a 6′ tall superadobe landscape wall with earthbag buttresses around the courtyard at the Fallgren strawbale home in Campo, CA.
Run by Simple Construct, this weekend-long workshop will be taught by Nathan Wright and Wade Lucas, graduates of Cal-Earth's superadobe building program. Meals and rustic camping facilities will be provided. More info to come soon!*
*If you are interested and not already on our email list, please sign up (at the bottom of the page) to receive our announcements.