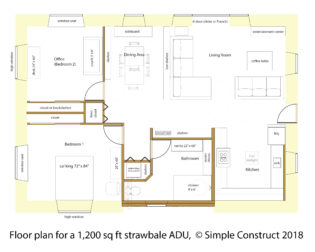 People are understandably excited about the new Accessory Dwelling Unit regulations that went into effect last year here in California that override local ordinances and allow most homeowners to build a detached "granny flat" of up to 1,200 sq feet no matter how small the main house is. ADUs used to be limited to 50% of the size of the main house, so if you had an 800 sq ft house, the largest ADU you could build was 400 sq ft. Not anymore! As long as you can meet the setbacks and other requirements, you can build (and legally rent out) an ADU as large as 1,200 sq ft. That's not tiny: that's a 2 bedroom house with closets and enough room for a separate kitchen, dining table, and living room.
But some of us are more interested in tiny. One aspect of this legislation that hasn't gotten as much attention is the new minimum size allowed. Previous regulations governing the minimum size of rooms meant that the smallest you could legally build a house was between 400-600 sq ft, depending on interpretation. This new legislation drops that to a minimum of 150 sq ft. That's a Tiny House! A legal, rentable Tiny House.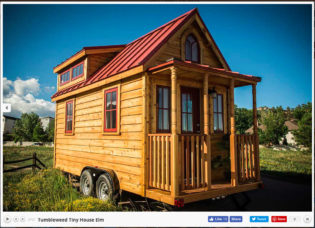 When you say "Tiny House," most people visualize one of those photogenic houses on wheels. Tiny Houses have become a phenomenon, a movement – maybe even a bit of a fad – and they are almost always shown on wheels.
Personally, I've never understood the need for wheels, except for being able to move the Tiny House if you get caught in the grey area of where you are or are not allowed to park a Tiny House on wheels. To some, the wheels are the solution to the problem but to me, the wheels can sometimes be the problem.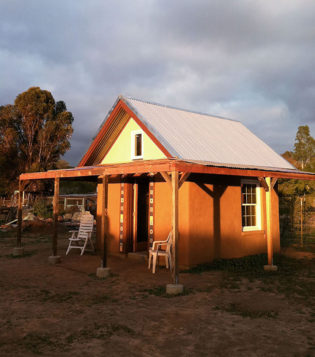 For some people, the wheels are important: they are about not being tied down, having the freedom to go wherever they want to go. But you might wonder why you would want to be able to move so easily? What about building community and putting down roots? And is it really that easy to drag a miniature house from place to place and negotiate finding water, electricity, and a place to put the wastes? With wheels, the questions are "Is it an RV or is it a mobile home?" "How does it connect to the necessary services?" "How does it connect to the ground in an earthquake or hurricane?"
If you are one of the people willing to let go of the wheels, that one aspect of the Tiny House as it has come to be known, you can now rejoice in how much more realistic and legal and likely and doable they have just become thanks to this awesome new law.
Yes, you'll need a foundation and sewer (or septic) and water service and electrical service. But the upside is that you'll have a foundation and sewer (or septic) and water service and electrical service. You will no longer be limited to what you can fit on a trailer or what is light enough to be towed, a consideration that usually precludes the use of most natural materials. Yes, you will need to own land (or make an agreement with someone who does). Yes, it will cost more to have this infrastructure but the upside is that you will have that infrastructure and you will have the legal right to live in or rent out your Tiny House.
Contact us to talk about the exciting possibilities for your property.
SaveSave
SaveSave
SaveSaveSaveSave
SaveSave
SaveSave
SaveSave
SaveSave
SaveSave
SaveSave
SaveSave
SaveSave
SaveSave
SaveSave
SaveSave
SaveSave
SaveSaveSaveSave
SaveSave
SaveSave
SaveSave
SaveSave
SaveSave
SaveSave
SaveSave
SaveSave
SaveSave