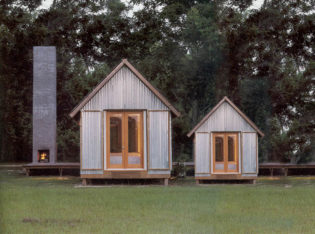 Whether you call them guest houses, granny flats, or second dwelling units, there's some exciting news about them! New legislation passed in CA lifts some of the restrictions around these units, which are now all called Accessory Dwelling Units (ADUs).
Two of the most exciting features of the new rules, which went into effect on Jan 1st, are that detached ADUs can be as large as 1200 sq ft no matter what size the main house is, attached ADUs are now allowed to be as big as 50% of the square footage of the main house, and, if the project is located close to public transportation, the requirement to provide extra onsite parking has been waived. The new rules also make permitting an ADU faster and less expensive. A permitted ADU can legally be rented out, generating steady income for the owner.
This could be huge for San Diego's affordable housing crisis! Now combine that with natural, non-toxic, carbon-positive building and we can do something real to address our housing crisis in a more sustainable way.
If you would like to explore the possibility of building a high-performance, non-toxic ADU on your property, we'd be happy to help you evaluate your options.
SaveSave
SaveSave
SaveSave