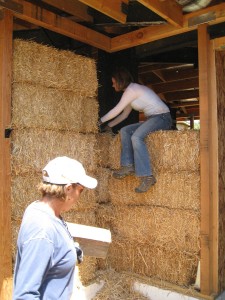 One attractive aspect of straw bale building is the potential for collaboration and community involvement. Owners can chose to have a "workparty" where family, friends, and neighbors volunteer to work together to stack bales or apply natural plasters, under the guidance of the owner and/or a workparty leader.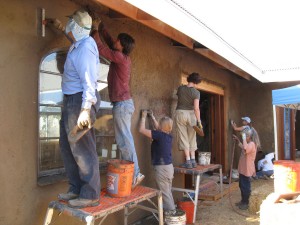 Although the terms are often used interchangeably, we think it is important to note the difference between and a "workparty" and a "workshop." At a workparty, the emphasis is on getting the work done for the owner. Workparties are usually free to participants; volunteers are rewarded for their hard work with lunch and gratitude.
At a workshop, participants are taught aspects of straw bale building by a straw bale professional, either while working on an actual project or working with sample materials. There is usually a fee to participate in a workshop and the focus is on teaching techniques and sharing information, not necessarily completing the project.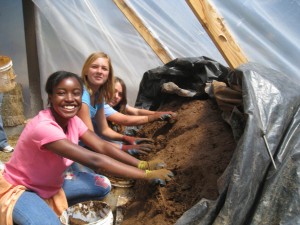 There are a number of conferences, classes, and colloquia you can attend. Natural Homes, Natural Building Network, and Sustainable Sources keep extensive calendars of local, national, and international events.
You can see more photos from workshops and workparties here.
If you would like to be kept informed about upcoming events, please join our Events Email List.