From our clients in Campo, CA, at 3000′ elevation, snug in the snow in their strawbale home:
"Attached are some photos taken this AM of the house – 3-4″ of snow which is pretty good for Campo. Low 20's outside at night. Interior drops to 72 when the woodstove is cold or overnight, and the whole house heats quite uniformly. We haven't used the mini-split heater. I know I harp on this, but such performance is remarkable. This house is just so damn easy to live in."
In addition to being pretty, these photo tell us a lot about the thermal performance of this strawbale home that we designed and built a few years ago.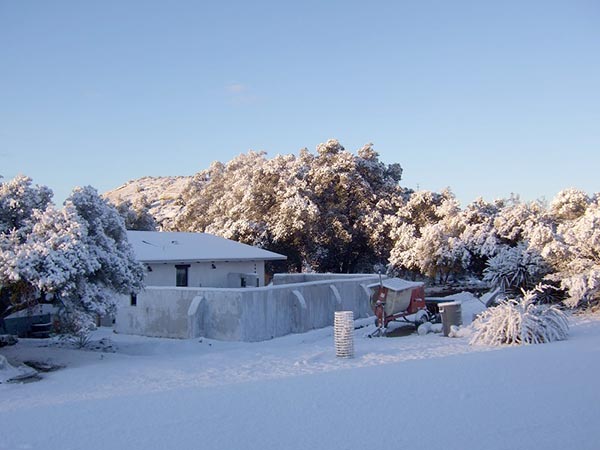 Because the roof is as well insulated as the strawbale walls and because we paid attention to stopping air leaks, there are no melted spots in the snow on the roof, which would indicate heat loss.
Here's a nice description of this indicator: https://www.energyvanguard.com/blog/34866/Snow-on-the-Roof-The-Poor-Man-s-Infrared-Camera