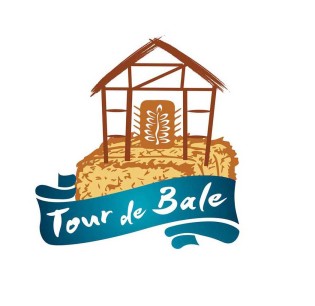 Thanks to everyone who came out for the Tour! 160+ people at 12 straw bale houses!
---
Tour de Bale – straw bale home tour in San Diego
Sunday, May 31, 2015, noon-4pm at locations all over San Diego County
Experience for yourself some of the beautiful, efficient, & natural straw bale buildings in San Diego County!
Straw bale homes are unique, energy-efficient, and healthier for people and for the environment. They are more fire-proof than conventional houses and perform well in earthquakes. San Diego County is home to more than 56 permitted straw bale buildings in a variety of sizes and styles. On Sunday May 31st, join the self-guided Tour de Bale and visit straw bale homes in locations near you including:
San Diego
Fallbrook
Jamul
Vista
Poway
Borrego Springs
Knowledgable homeowners, owner-builders, builders, designers, architects, and CASBA volunteers will be on hand to answer your questions about this wonderful way to build.
Registration is $10 per individual, couple, or family. This fee covers the cost associated with the tour and any profit will go to the the California Straw Building Association.
More info: