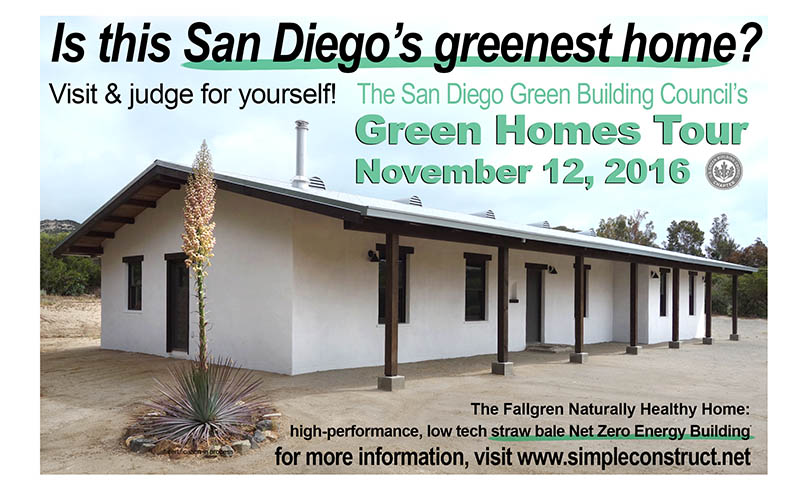 Join us at San Diego's Greenest Home on Saturday, November 12 from 10 am – 3 pm as part of the San Diego Green Building Council's annual Green Homes Tour.
This is the 4th year we've shown a home in this unique tour that has sites all over San Diego County and it's a great way to get to see a wide variety of green home options all in one day.
Our site, the Fallgren Naturally Healthy Home, is a 2 bedroom, 1 bath, 1600 sq ft straw bale home completed in 2016. With superinsulated straw bale walls, passive solar orientation, modest photovoltaic array, and efficient systems, this home is on track to be certified Net Zero Energy Building by the Living Building Challenge.
With its Old World feel and high-performance, it's an inspiring mix of the best of both worlds. Passively warm in winter and cool in summer, this home stays comfortable even when the power goes out. Featuring natural materials such as straw bales, clay plaster, adobe block, reclaimed wood and non-toxic finishes, we believe it may just be San Diego's Greenest Home! Why don't you visit and judge for yourself?
Because of the remote nature of this site, we will be organizing carpools and may provide a van shuttle if there is enough interest. Check back here for more info.
Register for the tour here: http://usgbc-sd.org/event-2296833