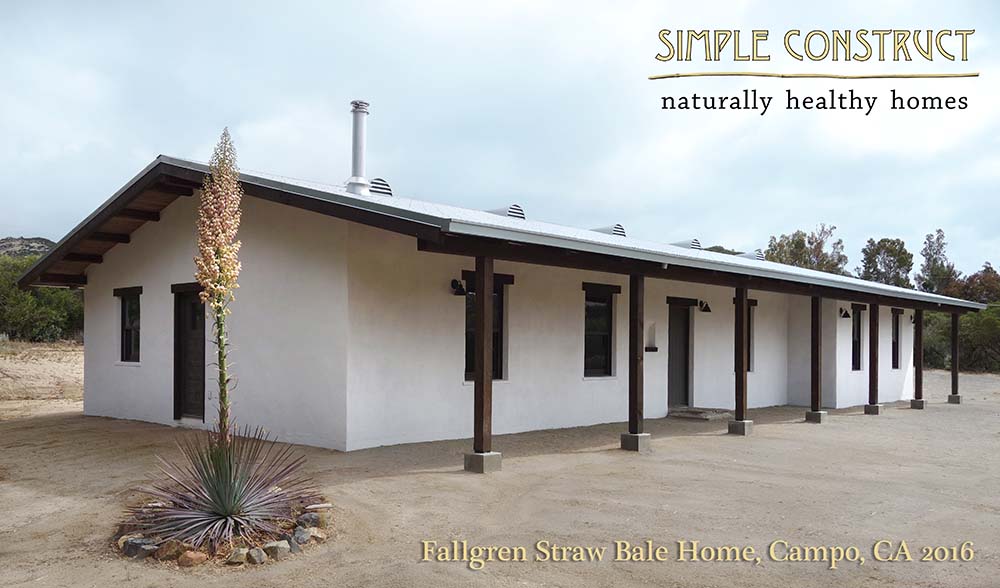 This is the 1600 sq ft straw bale home we designed and built for Brian & Sue Fallgren in Campo, CA. The homeowners wanted a turn-of-the-last-century adobe rancho look, which works well with straw bale building and is a nice vernacular look for this area. All of the exterior walls are straw bale with lime plaster on the outside and clay plaster on the inside. The interior walls, which are filled with straw-clay, and two adobe block mass walls are all plastered in clay plaster. Much of the wood used for trim is reclaimed from old sheds on the building site and the kitchen countertops are made from reclaimed vintage oak.
This project is seeking Net Zero Energy Building Certification which means that the home produces as much energy as it uses, as well as meeting other strict criteria for sustainable building. This prestigious certification requires a full year of monitoring by a third-party to verify that the home actually performs as well as designed.
This home also qualified for an incentive from California Advanced Homes Program because it modeled at more than 15% better than the current Title 24 Energy Calculations. Working in this building through the winter and into the summer is all the proof we need that this is a very high-performing, comfortable home.
We will be posting energy use data for this home as we monitor it for a year to confirm the Net Zero Energy status. Additional information about this home can be found here.
(Roll over the images below for descriptions and click on text for larger images)