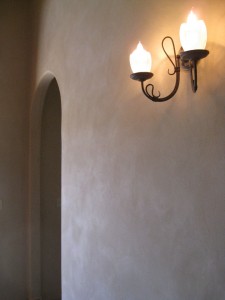 Built in 2000, this home was one of the first permitted straw bale buildings in San Diego County. It was design by Drew Hubbell of Hubbell & Hubbell Architects and had a community bale-raising led by straw bale guru Matts Myhrman. It is a unique design and features a 12′ tall boulder with koi pond in the center of the great room. Originally known as the Dunham-Kidwell residence but often referred to as "The Rock House," it was featured in the local papers and magazines. It has changed hands since then and is now owned by the DaSilva family.
In 2011, a plumbing supply hose broke in the house while no one was living there. Because the interior plaster was applied right down to the floor, the standing water destroyed the first few inches of the plaster in almost every room in the house. There were also some suspicious water marks on the plaster at head height that needed investigating.
The original builder was called in to excavate the wall and inspect the straw for water damage. Although it was clear that some water had traveled down the wall from leaks in the roof, the straw was in remarkably good shape. The roof was replaced.
We were hired to repair the excavations in the base plaster and then apply new finish clay plaster. The owners took the opportunity to change the color of the clay plaster as well.
Part 2: Once the damaged area was replastered, the homeowners liked it so much they hired us to replaster the rest of the house.