The Lance-During home is a 4,000 square foot, 2 bedroom, 2 1/2 bath straw bale home with detached guest house and garage. It is a rebuild from the 2003 Cedar Fire, which burned 280,278 acres and destroyed many of the homes in this area.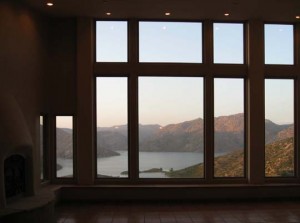 The building is laid out on an arc, embracing Lake Vicente Reservoir to the north. Large metal moment frames support the building on the north side, allowing a wall of windows creating amazing views from almost every room. The house is raised off of grade to improve the view, with a large crawl space underneath. A post-and-beam system supports the roof and the straw bales are used as in-fill. The east, west, and south walls are straw bale, with few windows to minimize solar heat gain in this hot desert climate.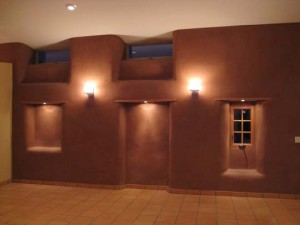 During the excavation for the footings, it became clear that there was clay available on the site. This native earth was harvested, tested, and proved to make a beautiful and strong clay plaster, which was used on the straw bale walls throughout the interior of the house. The building lacks significant overhangs to protect the exterior walls, so a cement/lime stucco was used on the exterior.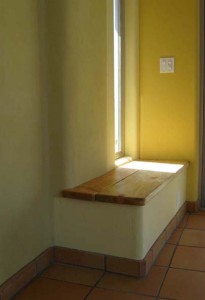 Lumber leftover from forming the footings was reclaimed and used for the window seat that runs the length of the house. If you look closely, you can see the outline of the stakes and bits of concrete in the knots. Why make faux rustic when you can have real rustic?
The style of the house might best be described as "post-modern Santa Fe," sort of art museum meets hacienda. As such, it is full of contrasts: earthy straw bale walls face a 20′ wall of glass, crisp drywall abuts organic plaster.
Though not ultimately a deeply sustainable design simply due to its scale, some of this home's large ecological footprint was mitigated by the use of straw bales, site-harvested clay, passive heating and cooling strategies, and high efficiency appliances. It is a spectacular and unique sculpture in a beautiful setting.
The beautiful custom kitchen cabinetry was crafted and installed by Foothill CabinetWorks
credits:
architect /designer: Paul Rank
general contractor: owner / builder & Alan Schmidt, Distinctive Builders
consultants: Simple Construct