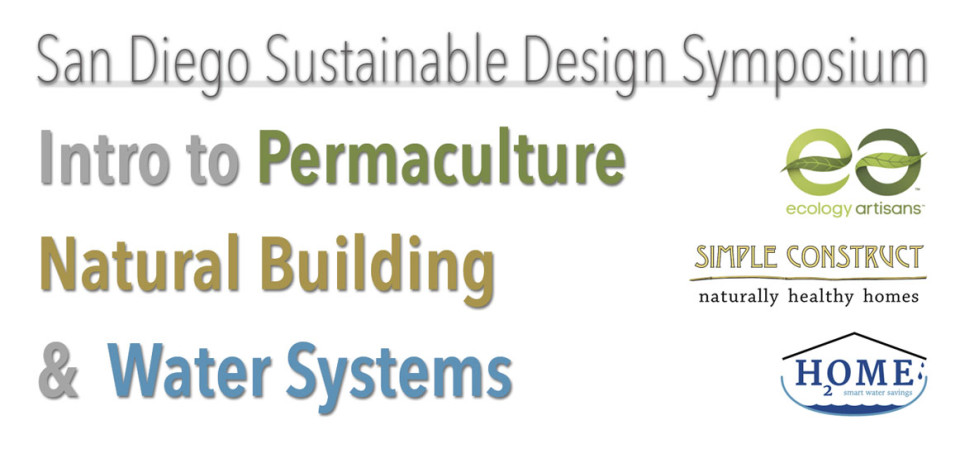 I hope you will join me, Rebecca Tasker of Simple Construct, on Oct 16, 2015 for this half day event covering the foundations of sustainability.
Friday, October 16th, 10:00 am–3:00pm at the Energy Innovation Center, San Diego
Learn about creating a healthy, beautiful and sustainable San Diego through Permaculture Design, Natural Building, and Efficient Water Systems. Presented by experienced leaders in their fields, these sessions will give you a thorough introduction to the foundations of sustainability. 
10am – Energy Innovation Center Tour, 4760 Clairemont Mesa Blvd., San Diego – The Energy Innovation Center is 1 of 10 buildings in the world to receive a double Platinum LEED certification. During our tour at the EIC we will learn about the latest in energy and environmental technologies such as a solar system that produces 20% more energy than it utilizes on a daily basis and a community garden fed by a rainwater catchment and greywater system.
11am – Introduction to Permaculture Design with Christopher Marciello of Ecology Artisans Permaculture is a creative design process based on whole-systems thinking that uses ethics and design principles. It guides us to mimic the patterns and relationships we can find in nature and can be applied to all aspects of human habitation, from agriculture to ecological building, from appropriate technology to education and even economics. By adopting the ethics and applying these principles in our daily life we can make the transition from being dependent consumers to becoming responsible producers. This journey builds skills and resilience at home and in our local communities that will help us prepare for an uncertain future with less available energy.
12 – Lunch Break (lunch provided)
1pm – Introduction to Natural Building with Rebecca Tasker of Simple Construct– An introduction to a range of natural and sustainable building systems such adobe, cob, and rammed earth, with a focus on straw bale building as ideally suite to our region. Learn about the surprisingly-sophisticated ways in which simple materials such as clay, sand, and straw perform hi-tech roles like providing super insulation and thermal mass; dealing with water vapor and buffering changes in humidity; protecting from wildfire and earthquake; and creating better acoustics and air quality. Learn the pros and cons of different systems and how they can be effectively and legally utilized in San Diego.
2pm – Efficient Water Systems with Brook Sarson of H2OME – Learn how to use integrated strategies to provide water resilience in Southern California. With the use of greywater, actively and passively harvested rainwater, and appropriate landscaping you may be able to use little to no municipal/well water to irrigate a productive garden and landscape. Find out how much rain you can actually capture in a year, how to store it in tanks or in the soil, and how rainwater means you'll use less water for your plants. Greywater is a simple way to add to your water budget. However, there are many things to know and understand about how to use it safely, how to be compliant to local and state codes, and how to find the most efficient ways to get water from each source outside. Onsite water is far better for your plants, our watersheds, and our state!
$50 early-bird / before October 7th – $60 after October 7th – $35 – Student
Continuing Education Credits available for AIA & USGBC Members
more info: www.wanderfoot.com/sd-symposium